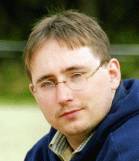 I'm Janek Schwarz, 31 years old, married, two daughters. I live in Berlin, Germany.
This site is my weblog where write about Java, personal matters, music and everything else that happens to interest me.
In my spare time I try to spend as much time as possible with my family. I also maintain a couple of web sites for friends and relatives, which collides with former statement. I like photography, punk rock and Douglas Adams. I play in and lead a third-class table tennis team.
I work as a software developer for a small company in Berlin. All views and documentation expressed here are mine and not necessarily those of my employer.
In the past I've worked as reasearch assistant at Humboldt-University Berlin. In 1999 and 2000 I was a visiting scientist at the Department of Computer Science of University of Illinois Urbana-Champaign, where I worked with Prof. Lui Sha.
Professional Biography
Professional Interests
Object-oriented analysis, design and programming (Java, C++, Smalltalk, Python), Design Patterns, Refactoring, Extreme Programming
Reliability and availability of standard middleware (CORBA) - Project RESCUE
Distant learing, tele-teaching and tele-laboratories - Project RemoteLab
Fault-tolerant, distributed systems